Metropolis Launcher is full of tabular representation of data. The biggest table within Metropolis Launcher is without any doubt the Games & Emulation Main Screen with all the games and their respective name, genres, developer, year etc. metadata as columns.
There are however numerous minor tables in dialogs (e.g. the list of games that a certain developer has contributed to in the Developer Info dialog).
Also, within the tabs on the Games & Emulation Main Screen there a some smaller tables (e.g. Technical Specs, Statistics, Staff etc.).
All these tables have common functionality, which will be described in this topic.
Note: Anything you set up with these tables (visibility, sequence and size of columns, sorting, sort order, filtering and grouping) will be saved when you close a dialog or exit Metropolis Launcher. When you re-open the table these settings will be restored.
Overview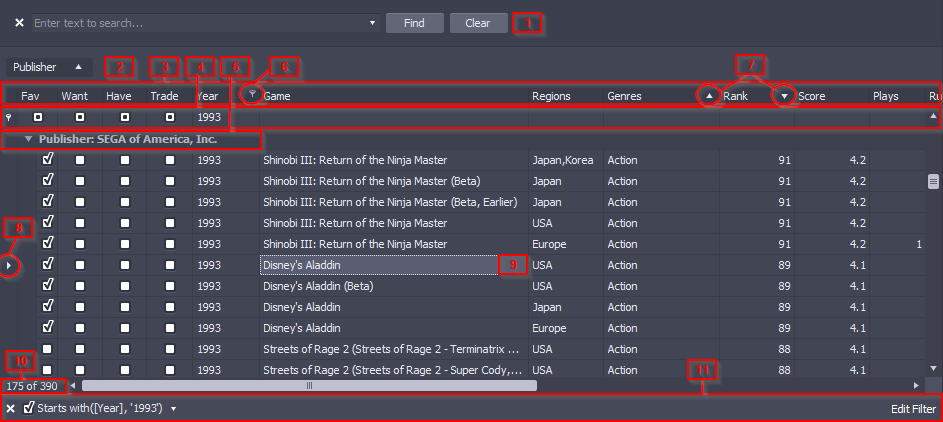 A table within Metropolis Launcher is made up of the following elements:

[1] Find Panel

[2] Group Panel

[3] Table Header with Column Headers, Smart Tag [6] and Sort Indicators [7]

[4] Auto Filter Row

[5] Group Row

[8] Row Indicator

[9] Active Cell

[10] Row Info

[11] Filter Info
The column header's context menu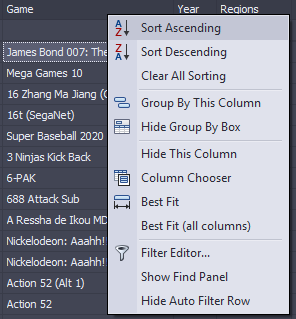 Column Visibility and Sequence
Column Sorting
Grouping
Grouping allows you to organize the data in a tree-like structure.
The Group By Box's context menu

A grouped column header's context menu
You can access the context menu of a grouped column by right click on the column header in the Group By Box. The content is almost identical to the column header's context menu in the table header.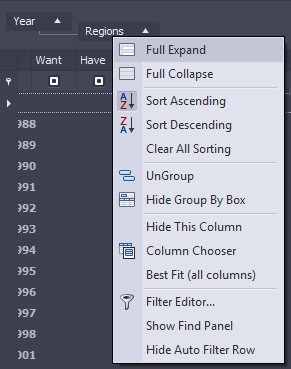 Search
Metropolis Launcher provides many possibilities to filter data, here's how it's done: